The Simplest Way to Manage Development and Production Process for Fashion Company
used by 400+ companies around the world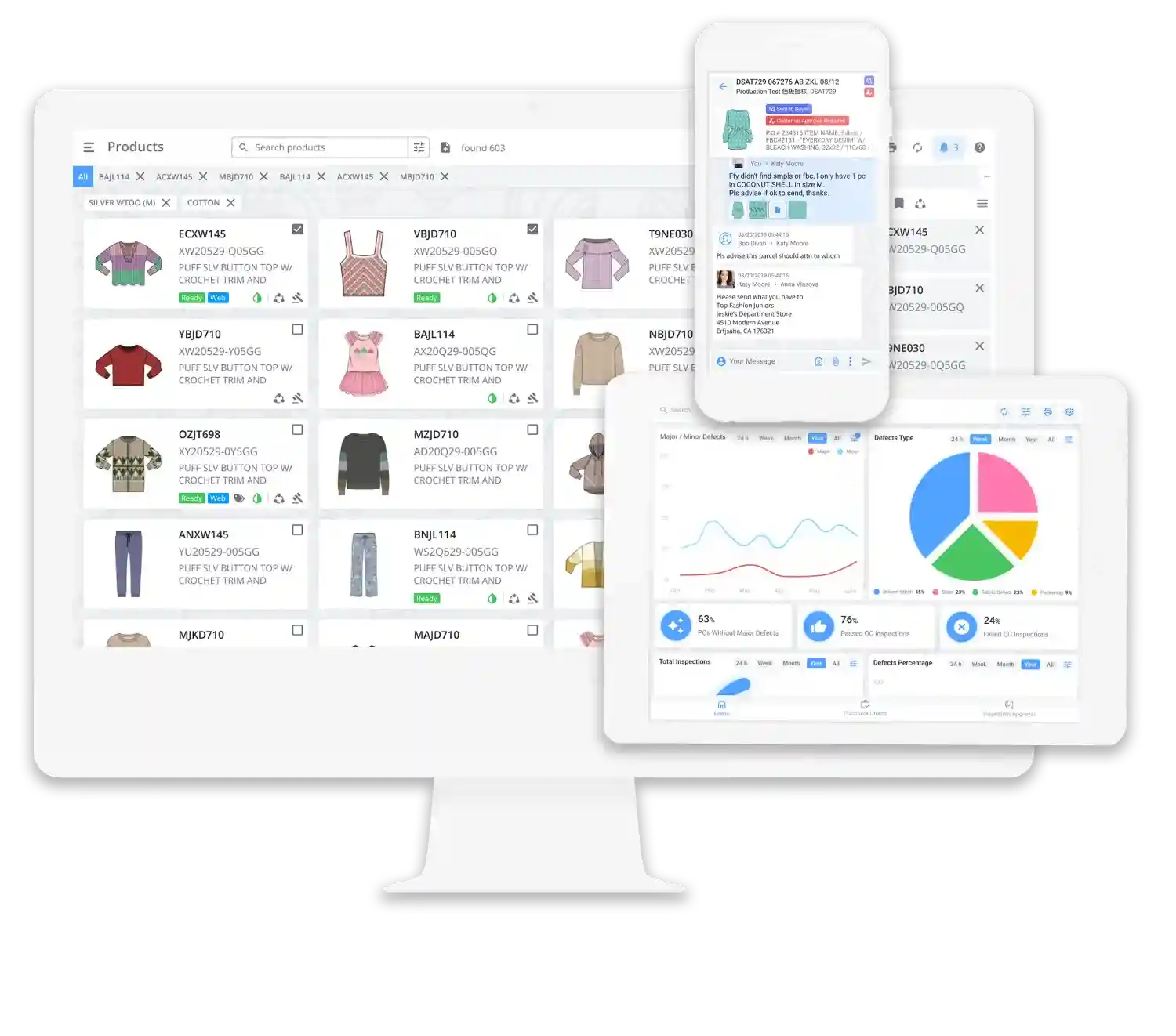 Digital Transformation Made Easy
Imagine yourself to have just one login to run the entire fashion production process.
You don't need weeks to install PLM software, in-house developers to support it or millions of $ to run it.
Products
Digital Assets
Development
Costing
Time & Action
Shipment
Inspection
Analytics
Our Apps
Get everyone on the same paperless page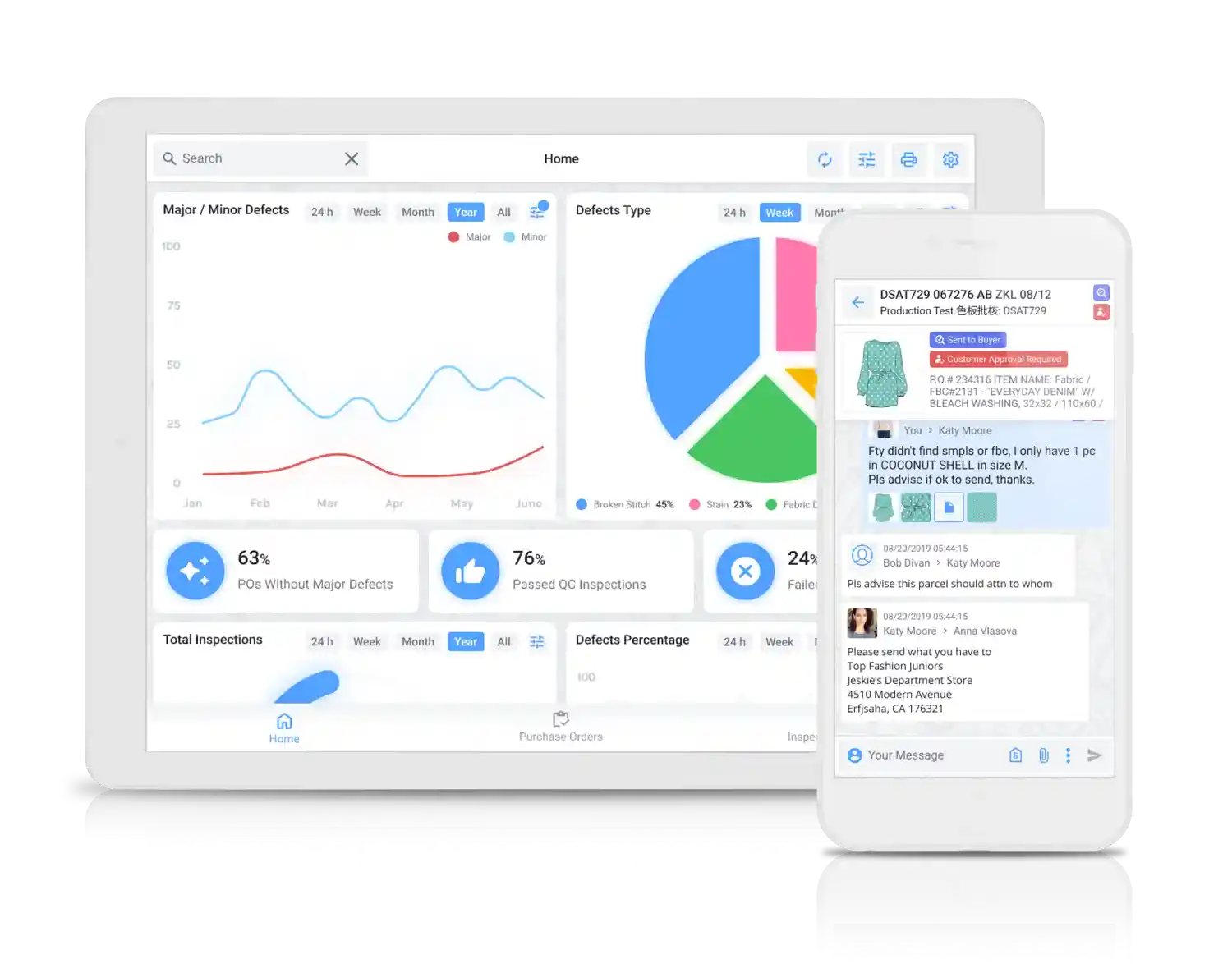 Apparel Connect App
Scan, submit or sample tag to access task information
Approve, reject or comment on sample
Track production
Real time communication
Quality Control App
Resolve issues early in production stage
Instant access for QC team to all info and ability to enter inspection results on site
Management review and approval of results
Automated reports generation and notification
Why Wave PLM?
Cloud PLM software that adapts to your apparel business needs
20 years of industry experience, 45+ partner brands, dedicated team
Fully automated Time & Action
Automated task creation, department and user assignment allows you to track key milestones with no effort. It increases productivity across all departments and minimises the occurrence of human error.
Fast Implementation
We know that software implementation can be frustrating and long. Together we'll revise current processes to determine how they should be mapped to a fashion PLM and you'll get software up and running in 48 hours.
Data Security
Retain complete control over the regions in which your data is located. Protect your privacy with Wave PLM – a secure cloud product lifecycle management system that only allows access to information by entitled users.
Simple-to-use Interface
With our user-friendly interface and easy navigation, you find answers in a fast and efficient way. This boosts your sales volume and reduces operational costs.
Connected Product Life Cycle
Our fashion PLM connects all the processes from design to retail. It gives you a 360 overview of your organization and uncovers the real-time insights.
Faster Decisions From Anywhere
Real time collaboration and access from anywhere in the world using any device simplifies your work and speeds up the fashion production process overall.
Whether you are looking to scale your fashion production to reduce costs or take full control over the production processes in your company Wave PLM will be your partner in digital transformation
Cloud solution up and running in 24 hours
Module customization upon request
Two apps included in plan
Instantly expand your fashion team
No need for own IT infrasctucture
Testimonials
What customers say about our fashion PLM
Wave PLM has completely transformed how we manage our business internally. From the early stages of sample development, to the managing of our production timetables, to communicating with our overseas office, Wave PLM has enabled us to always have our "finger on the pulse" of every project …. In real time.
Eric Gailing, Director of Operations
Jaclyn Bonnie International LLC
Wave PLM is a single location platform that allows simple access to the full pipeline. From concept to final QC audit, everything is at your fingertips. For task driven activities it is essential. For executives to manage by exception, this is the perfect tool.
Scott Felder, Executive VP
Golden Touch Group
Wave PLM was time saving for all our production costing, makes fabric ordering much easier, along with distribution, logistics and monitoring our Inventory. The workflow is easy and understandable, it definitely helped us to be "on the same page" with everyone in the team.
Alla Stalone,
Sales Manager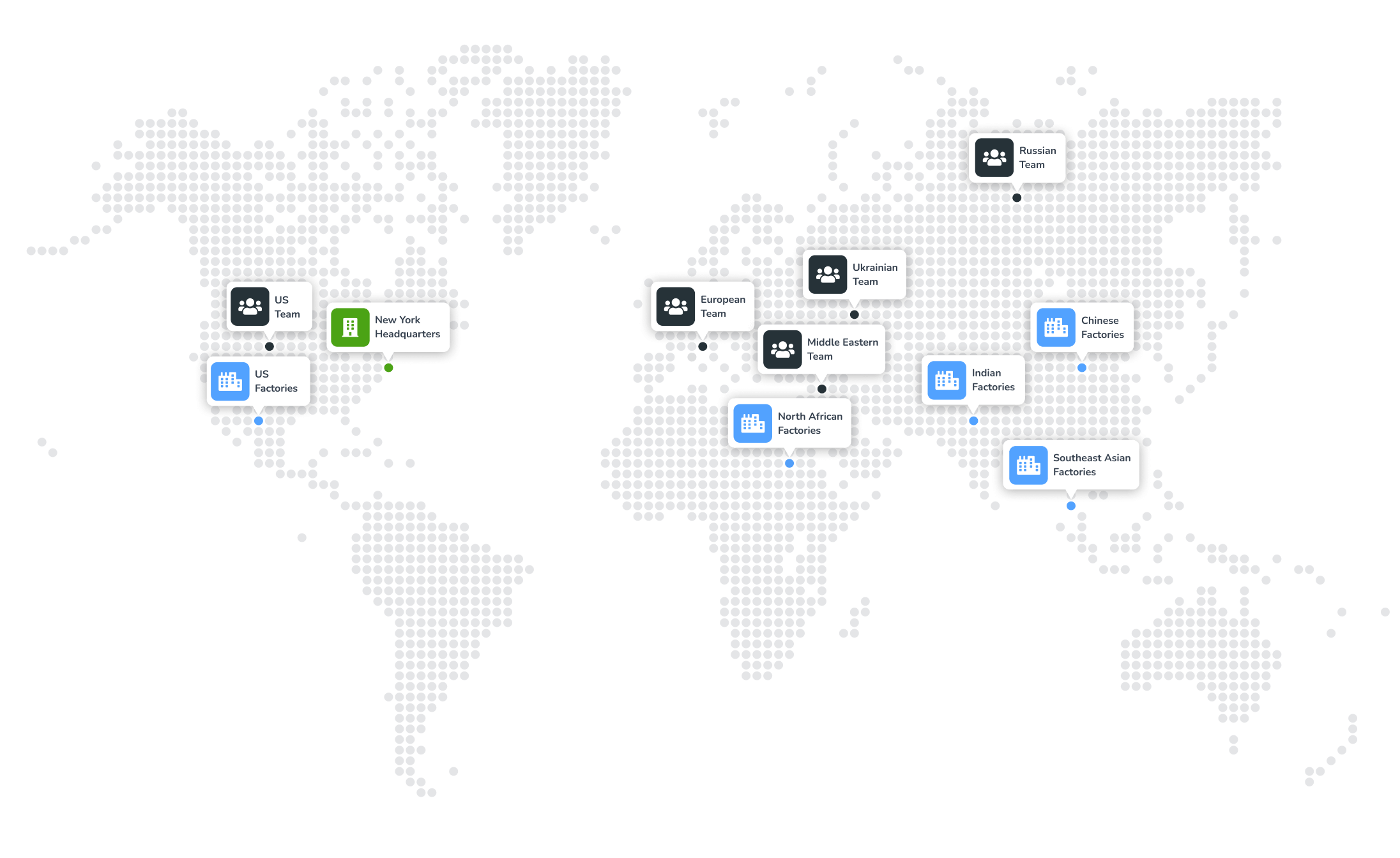 Pricing
To make sure Wave PLM fits your needs in the best way
we have developed a custom approach
3-month Free Trial
Additional User:

$ 110

All Wave PLM Modules
QC App & Apparel Connect App

Additional 1 Regional Server
FAQ
Frequently asked questions about our PLM for fashion
Absolutely! We have customers and partners in every time zone and we will make sure that a dedicated manager is available whenever you need him. Besides Wave PLM is available in different languages. Feel free to book your call with us and we'll help you to understand the process.
Well, for us it is straightforward – once you decide that you want your company to grow while having all the processes under control and full transparency of every step - Product Lifecycle management is necessary. The smallest company we have been working with implemented a fashion PLM with only 10 users initially.
No, you don't. You might want to improve something eventually, to start working with more suppliers, but it is not necessary. Wave PLM will reflect the current processes of your production.
It usually takes up to 2 weeks to be able to use all the features. But you can start using it from day one since it's a cloud PLM for fashion business and you do not need to install anything locally.
We do offer a demo version for you to try out Wave PLM. We also offer a 3-month free trial.
Absolutely. Our team is ready to work on your customization request.
Ready to Talk?
All The Questions May Be Directed To Our Manager